Back to all posts
Posted on
Bus Delay - Thursday November 18, 2021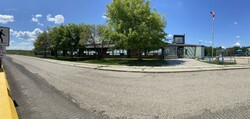 November 18, 2021 - We just wanted to provide you with a quick update on the delay of Bus M05 to Muir Lake School Thursday, November 18th. A minor delay turned into a longer emergency response when a passerby called 9-1-1 after seeing Bus M05 partially in the ditch. While the bus driver was giving the right of way to a Parkland County grader as the bus was exiting a subdivision, the back tires of the bus came off the road leaving the bus with no traction.
This was not an emergency situation and actually quite a common occurrence. The bus was near the end of its morning route so there were approximately 33 students on the bus. Those students were never in danger. However, once emergency services were dispatched, they needed to follow their procedures to medically check each occupant of the bus which caused further delays.
Should this have been a real emergency, once our Division staff and emergency responders initiated a response, direct communication to emergency contacts would have proceeded as soon as practically possible.
To familiarize yourself with Division emergency procedures, please visit the Emergency Procedures page on the PSD website.
For further information, contact:
Parkland School Division
Transportation Services
Email: transportation@psd.ca
Phone: 780-963-8452